CLARKSVILLE – "We not me."
It's a simple phrase and many coaches try to use it, but few succeed.
As Providence has made its march to March and prepares to face Central Noble in Saturday's Class 2A State Championship game, more and more people are seeing what the team's mantra means, to both among the players and the coaching staff.
However, what people may not know is how it all started. Head Coach Ryan Miller has assembled an army of coaches, but it didn't start with just one man.
"Initially it was Lance Stemler, Dan Block, Brad Denman and myself who all got together three years ago and said, 'Let's do this,'" Miller said. "We knew there would be work to do, but we also knew we would do it for a school and a community that we all love. It wasn't just me applying for the job, it was a group of guys who collectively wanted to do this together knowing that every coach would have a role. Since then, we've had the chance to add other great people to the mix.
Since being hired in 2019, Miller has added Chris Carruthers, Bart Makowsky, Mike Gosman and Torrey Winchester. Miller's younger brother, Keevan, will also help with practices from time to time.
"A lot of programs talk about being family, but we really are," said Ryan Miller. "We are a very tight-knit group of coaches who talk all year round, not just during the season."
Coaches can preach about family and teamwork all they want, but the conversation will be pointless if they don't model that behavior. Main back Max Beatty, who was a second year when Miller arrived, said the cohesion shown by the coaching staff was evident from day one.
"We all see how well the coaches work together and work as a team, and it's made it a lot easier for all of us players to stick with what they teach," Beatty said. "They all contribute to the team in their own way and don't step on each other. They all respect each other and it's obvious they just want to do whatever it takes to help us succeed.
Stemler, the associate head coach, is one of the few non-PHS graduates on the staff. A native of Columbia, Illinois, he played his last two seasons (2006-08) of college ball at Indiana University. After wearing the cream and crimson, Stemler played professionally in Germany for two years before returning to Hoosier State. He and Miller once coached Lou Lefevre's staff together in Providence.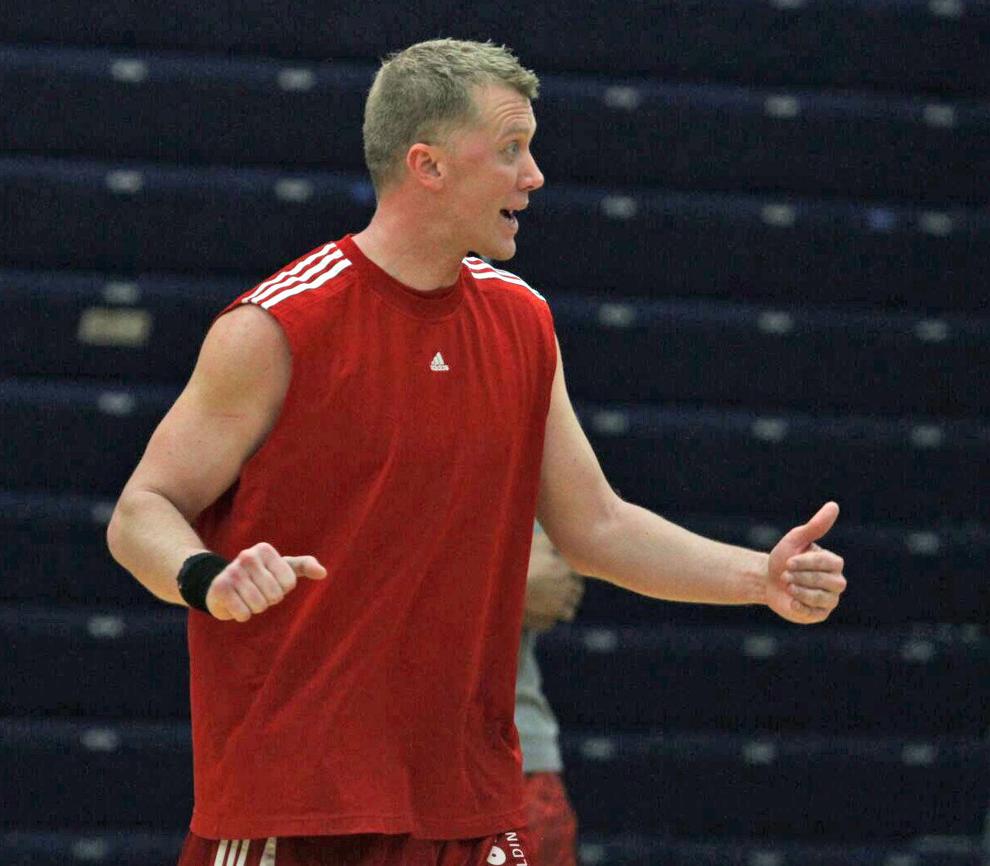 "Ryan does as good a job as anyone I've rubbed shoulders with of setting the tone," said Stemler, whose wife, Amanda (Law), graduated from Providence in 2005. "When your leader does that, it's easy for everyone to queue. I don't know if we've ever sat down and talked about the culture here. It's just something we try to do every day, lead by example, and it all starts with Ryan.
Block is a 1996 Providence graduate and IU alumnus. He was a student manager there for three years under legendary head coach Bob Knight before serving as video coordinator/director of basketball operations for four seasons under coach Mike Davis.
"My background is breaking down the film and helping teams prepare for opponents," he said. "I enjoy the strategic playfulness of trying to get the other team out of what they want to do. Ryan has a servant style of leadership. It's easy to follow and fall behind. He makes us let us all focus on our specialty and everything went well.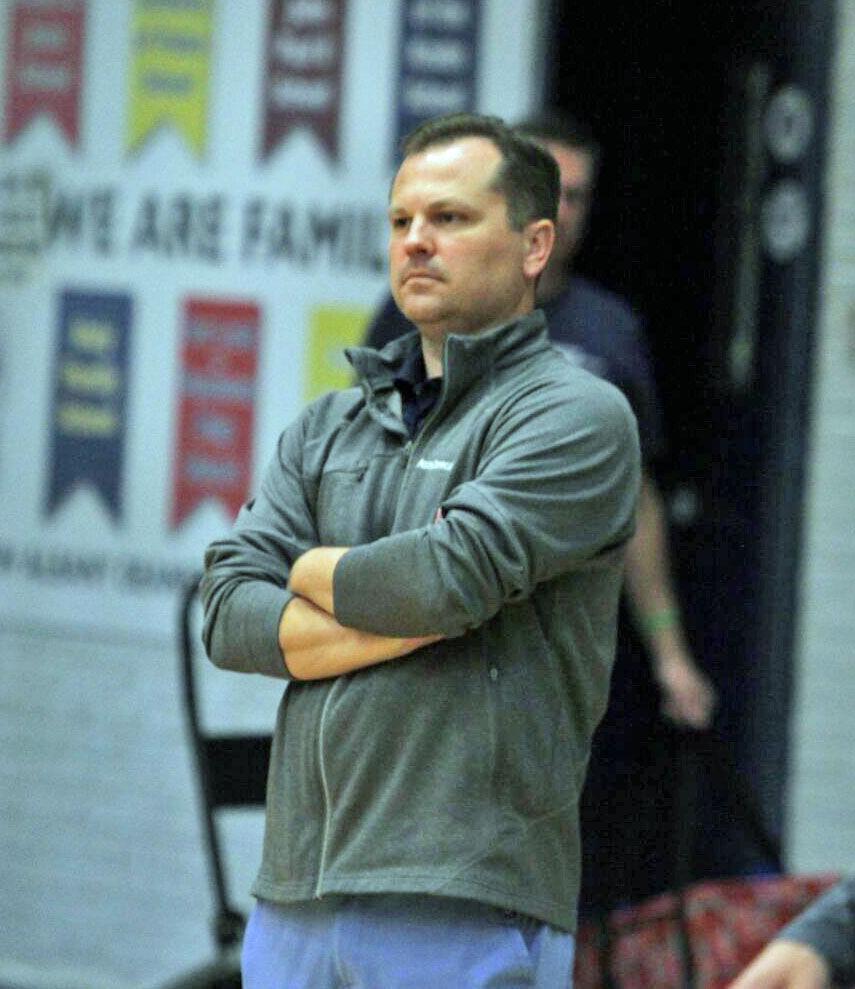 "Dan Block is like a cyborg; I don't know when he sleeps," Miller said of the assistant who has four young children, including a set of triplets.
Denman is another Providence alumnus, graduating in 2002.
"Denman takes care of all the logistics for the team," Miller said. "This week he's taking care of everything for our state championship game and the trip up there, and I can't thank him enough for that. He's invaluable.
Denman also runs the Pioneer Feeding Program and summer basketball camps.
"I was president of the alumni association here for 10 years," said Denman, whose wife is also a PHS graduate. "We are all very passionate about Providence and doing what we can to help these boys succeed on the court and in life. All the coaches seem to have a specialty and we are happy to do our part to help the program.
Makowsky, whom Miller calls the team's "spiritual leader," joined the staff last season. The 1987 Providence graduate teaches theology at the school and has been a faculty member for 16 years.
"Bart is always there and prepping everything for the guys before every practice," said Miller, who is the advancement manager at Providence. "He does all those little things for the team that are so essential. He leads us in prayer and since he teaches here he can make sure the boys stay at the top of their classes.
Makowsky said he saw potential in this team early on.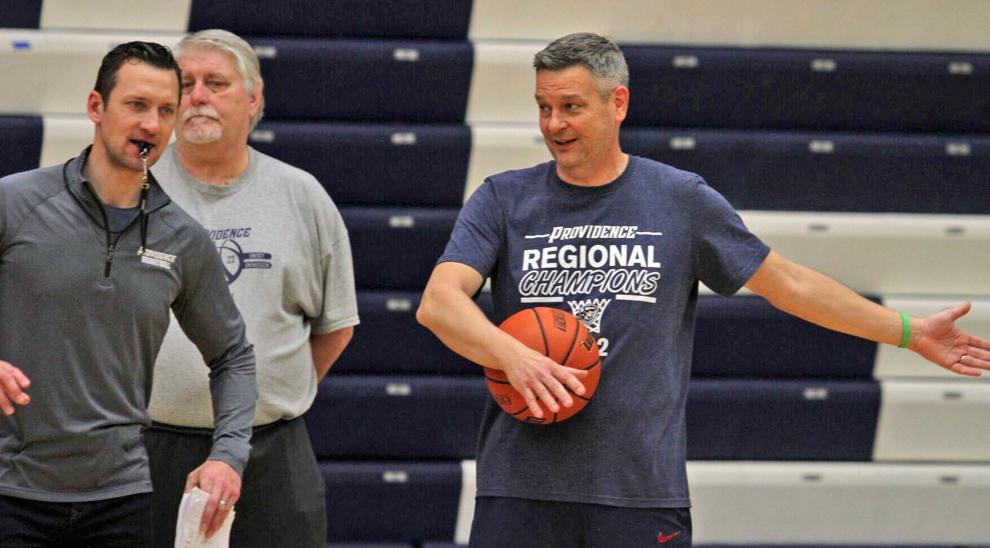 "Every team is different, but it's always apparent when a few players aren't committed to their role. That's not the case with this group," he said. role, even the kids who don't play a lot. It's just a great group of kids who want to work hard. They're so coachable. It keeps us going as coaches. It's inspiring.
Carruthers, who serves as the junior head coach at the university, was Miller's first hire of 2019 outside of his core group.
"Carruthers is a young man full of energy and with a basketball spirit and wisdom that far exceeds his age," Miller, 41, said. "He's a guy we didn't really know before he got here, but everyone I asked about him had nothing but good things to say about him. He's now one of my best friends. He's able to laugh and joke with guys about things half the time that I don't know what they're talking about.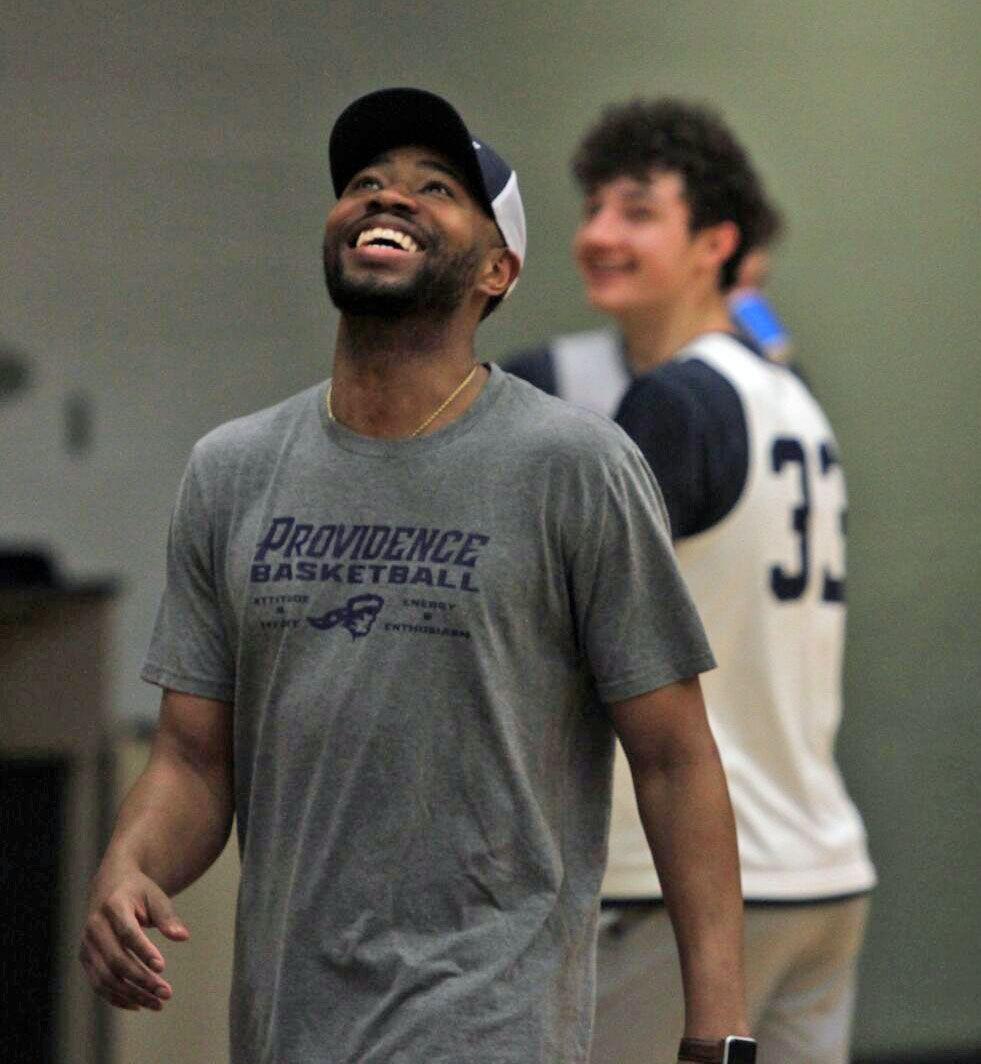 Carruthers, a Christian Academy graduate who played at Franklin College for two seasons, said he was sometimes teased by fellow coaches for being the youngest member of staff.
"It's for fun and they're probably jealous that I can relate more to the guys, because I understand teenage lingo better," the 28-year-old said with a smile. "I knew this group of boys had the potential to do great things, but it would be a matter of maturity. They all bought into their roles, put their egos aside and focused on the bigger picture. It's just a great program to participate in.
While Carruthers is the young pup, Gosman is the oldest statesman on the bench. He was on the Shawe Memorial coaching staff for 40 years before joining the Pioneers last season.
"I'm so lucky to be part of this staff," he said. "I've never been around such a dedicated and passionate group of kids, and that's a reflection of Ryan Miller. The coaches here make me feel stupid, they have so much basketball knowledge. It's unreal. You have to have chemistry in a coaching staff before you can have chemistry in a team and we definitely have that here.
Beatty said Gosman is always willing to stay after practice to work with the players or bounce back for them. He also said Gosman was by far the funniest coach.
"Sometimes you don't even know what he's talking about, but you laugh," Beatty said with a smile.
"I have my moments, let me tell you," Gosman said. "I could be the court jester of the crew."
Rounding out the staff is Winchester, the freshman team head coach.
Each of Providence's coaches has their own job. Miller focuses on defense, Stemler focuses on the attacking side. Block and Gosman break down the film while Denman handles logistics and youth camps. Makowsky is the first to practice and the constant presence in the school building, while Carruthers and Winchester train the Young Pioneers. Even volunteer assistant Bryce Hutchins, a 2020 Providence graduate and student-manager at Bellarmine University, helps out when he can.
The Providence head coach allows a lot of guys to do a lot of things in the program and it's proven to be very effective. However, there is one thing that Miller doesn't let into his gym.
"No egos are allowed here," he said. "No ego of coaches or players. Nothing is accomplished with ego. Everyone here belongs here, is embraced and has a certain role to play in the team. We all have one goal: to do everything what we can to give these boys a chance to succeed on the pitch and in life.
An embodiment of the "We not me" mantra of the Pioneers.